About aim
The foundation for Authentic Institute of Montessori was laid in 1939 when Elisabeth Caspari met Dr. Maria Montessori in India. The two spoke at length about music, teaching, and their common interests in the study of pedagogy. Maria Montessori exclaimed to Elisabeth, "You were a Montessorian before you met me!" and invited her to take her Montessori Method course in Adyar, India. As fate would have it WWII prevented Caspari from continuing her travels.
Elisabeth used the opportunity to return to India where she attended Maria Montessori's course. After the course was completed, Maria and her son, Mario, were also unable to return home because of the war. In a strange twist of fate, Charles and Elisabeth Caspari, and Maria and Mario Montessori all ended up residing in the small village of Kodaikanal, India. Nearly every day from 1942 through 1945, Maria Montessori and Elisabeth Caspari collaborated and worked together. During this time, the Casparis opened their first Montessori school in their home in Kodaikanal.
After the war ended, the Casparis did not return to Switzerland as their families expected. Instead, they chose to move to the United States. Elisabeth was dedicated to spreading Montessori's educational methods far and wide. She opened another school, Wee Wisdom Montessori, the first Montessori school in the U.S. since before the start of World War II. She also opened the first Montessori Teacher Education Center in the U.S. since the war. In 1973, Elizabeth Caspari, together with Dr. Feland Meadows, founded the Pan American Montessori Society (PAMS).
Elisabeth Caspari brought the authentic message of Montessori to hundreds of teachers around the world, including at least six teacher trainers, among them, Mary Ellen Maunz, M. Ed., founder and Program Director of Age of Montessori. Mary Ellen trained over a four-year period to become a Master Teacher in 1983. She and Elisabeth formed a close friendship which spanned more than twenty years. Together, they launched the Montessori teacher certification program. Today that tradition lives on at Authentic Institute of Montessori.
Age of Montessori is fortunate to have more than 300 hours of footage in our video archives of Dr. Elisabeth Caspari teaching and lecturing. Caspari worked untiringly to film the entire course and gave many recorded lectures and interviews. Much of this one-of-a-kind footage is available in Aim's Teacher Training course. Dr. Caspari passed away at the age of 102 in her home in Paradise Valley, Montana on July 11, 2002.
Thanks to Dr. Elisabeth Caspari's determination and dedication to high standards, Age of Montessori is able to bring the most authentic training possible to those seeking Maria Montessori's true message. Real, authentic, and accredited Montessori Teacher Training is within your reach! Aim's blend of on-line and in-person learning prepares you well for a career that is founded in Maria Montessori's true legacy.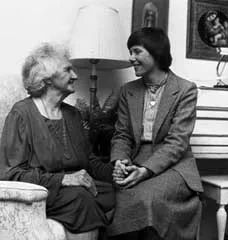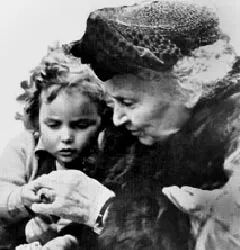 Mary Ellen Maunz Founder/Program Director
Authentic Institute of Montessori's founder, Mary Ellen Maunz, has more than 50 years of experience in Montessori education for both teachers and parents. She collaborated for two decades with Dr. Elisabeth Caspari, student and personal friend of Maria Montessori. She is an international authority on early childhood and elementary education and has lectured and taught students in seven countries on five continents. Internationally-renowned author and lecturer, Maunz is on a lifelong mission to help parents understand the underlying needs of the developing child. She is an innovator in Montessori education and has developed two accredited teacher training programs and online courses designed for both parents and teachers.
Mary Ellen was trained over a four-year period as a Master Teacher by Dr. Elisabeth Caspari, personal friend and student of Maria Montessori, and was awarded a Master Teacher diploma in 1983. Caspari and Maunz remained close friends and worked together from their initial meeting in 1979 up until Caspari's passing in 2002. The legacy from Maria Montessori to Elisabeth Caspari to Mary Ellen Maunz continues. Maunz continues to train Montessori Teachers, spreading the message across the globe!
Maunz earned her M.Ed. in Integrative Education with an emphasis on Montessori from Endicott College, and she holds a BS in Child Development from the University of La Verne. She also holds an AMI Montessori diploma for ages 2½ – 7 and a Pan-American Montessori Society diploma for ages 6 – 12. She has a certificate of Pastoral Care from Houston's Institutes of Religion where she studied the Catechesis of the Good Shepherd with Dr. Sofia Cavalletti.
She has lectured widely both nationally and internationally for more than 30 years on multiple topics relating to children and education. She founded a Montessori teacher education institution in St. Petersburg, Russia, in 2007, where she teaches every summer.
Mary Ellen also has an extensive background as a school consultant and as the co-creator of a successful business in early reading products, the Early Reading Company. She was lead author of the book, Learning to Read is Child's Play, published in 2000, and wrote Nurturing Your Child's Inner Life, published in 2012.
She served as Commissioner for Accreditation and Member of the Board of Directors for the Montessori Accreditation Council for Teacher Education (MACTE) from 1992-2000 and held the position of Vice-President of the International Association of Montessori Educators (IAME) from 2001-2004.
Mother of three grown children, Mary Ellen's great passion is exploring the deeper spiritual message of Maria Montessori. She loves to read, swim, and hike with friends and family.
Authentic Institute of Montessori
In 2011 Mary Ellen brought her dream of creating a high-quality, accredited, blended (online & in-person) Montessori Teacher Certification program to life. Along with a few close Montessorian friends and colleagues Mary Ellen built a non-profit organization whose primary objective is to change the ways of the world by delivering the Authentic Montessori Message to as many teachers and parents as possible. We are committed to delivering authenticity of Dr Montessori's observational brilliance coupled with the exceptional, personal support of our adult learners. Our curricula go deeper in Montessori philosophy and practice than other training programs. In just ten years we have become a highly-respected Montessori Teacher Training organization providing an interactive, flexible and blended program of outstanding quality.
"It is necessary for the teacher to guide the child without letting him feel her presence too much, so that she may always be ready to supply the desired help, but may never be the obstacle between the child and his experience."
– Maria Montessori