Film 12 - The Blind Side
Movies that Will Inspire You:
Learning to See the Child Who is Not Yet There

This is a recent film that won Sandra Bullock an academy award in 2009. It is a fantastic example of a woman who sees the child who is not yet there. The Blind Side is based on the true story of Leigh Anne Tuohy, a white mom of two children in Tennessee, who sees in a lonely young black man a loving and competent human being. This is one of my favorite films capturing the essence of teachers (and parents) who have been able to see and hold the vision of what a child can be and do. This film is readily available on Netflix and other venues. Public libraries often have a good selection of films, or you can rent them or even buy your favorites through Amazon.com.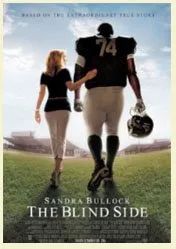 This is a true story of Michael Oher, a young man who does not know who is father is and whose mother is a drug addict. He is homeless and hungry. He is huge in build and poorly educated. He is seemingly going nowhere. But then he meets Leigh Anne and her family, who give him a home and a chance at success. The entire family brings him into their lives, gives him opportunities and supports him in getting his education and in learning how to play football. It is Leigh Anne who sees the hidden strength of "Big Mike" and uses that strength to the utmost to help him succeed. She and we show such support with our love.
When she meets Michael's birth mother, Leigh Anne's love and sensitivity toward her is a moving testament to her utmost respect for her new son and motherhood as a respected role in life. Here is an excerpt from an interview with the real Leigh Anne, her husband, Sean, and Michael that goes to the heart of the situation:
Sean Tuohy (Michael's adoptive father): She obviously looked into his heart and saw that there was more to his need than just food.
Leigh Anne Tuohy (Michael's adoptive mother): Michael just needed to be loved. I hugged him for a year before he even hugged me back. I think that that was the first time in his life that someone had proved, and that he knew in his heart, that they had loved him for him.
Michael Oher: I felt like I was wanted here. I think that is what it was. I just felt like I was wanted and needed.
Michael's innate talents needed love to be able to come forth. I believe that every child has genius. That does not mean every child is a certifiable genius, yet every child has something that makes them shine. It is our job to help our children find their passion, their creativity and the highest level of their skills. In Michael, it was his instinct to protect those he loved. It was, in fact, his strongest characteristic and Leigh Anne found a way to use that strength to help him win in football and other challenges in his life.
This young man went on to play professional football for the Baltimore Ravens and earn a degree in criminal justice. His adoptive mother saw what he could do and opened the way for him by seeing who and what he had inside. She is an example of one who loves enough to bring out the best in someone else. She loved life free.