Bring On the May Flowers!
I'm not sure what's going on in your neck of the woods, but around here it looks like another day of April showers (emphasis on the errrrrs.) What's a family of four to to do, stuck inside the house all day? Well, we decided to make our own sunny beautiful, and edible May flowers. I wanted something healthful, they wanted something fun, so here's what we came up with...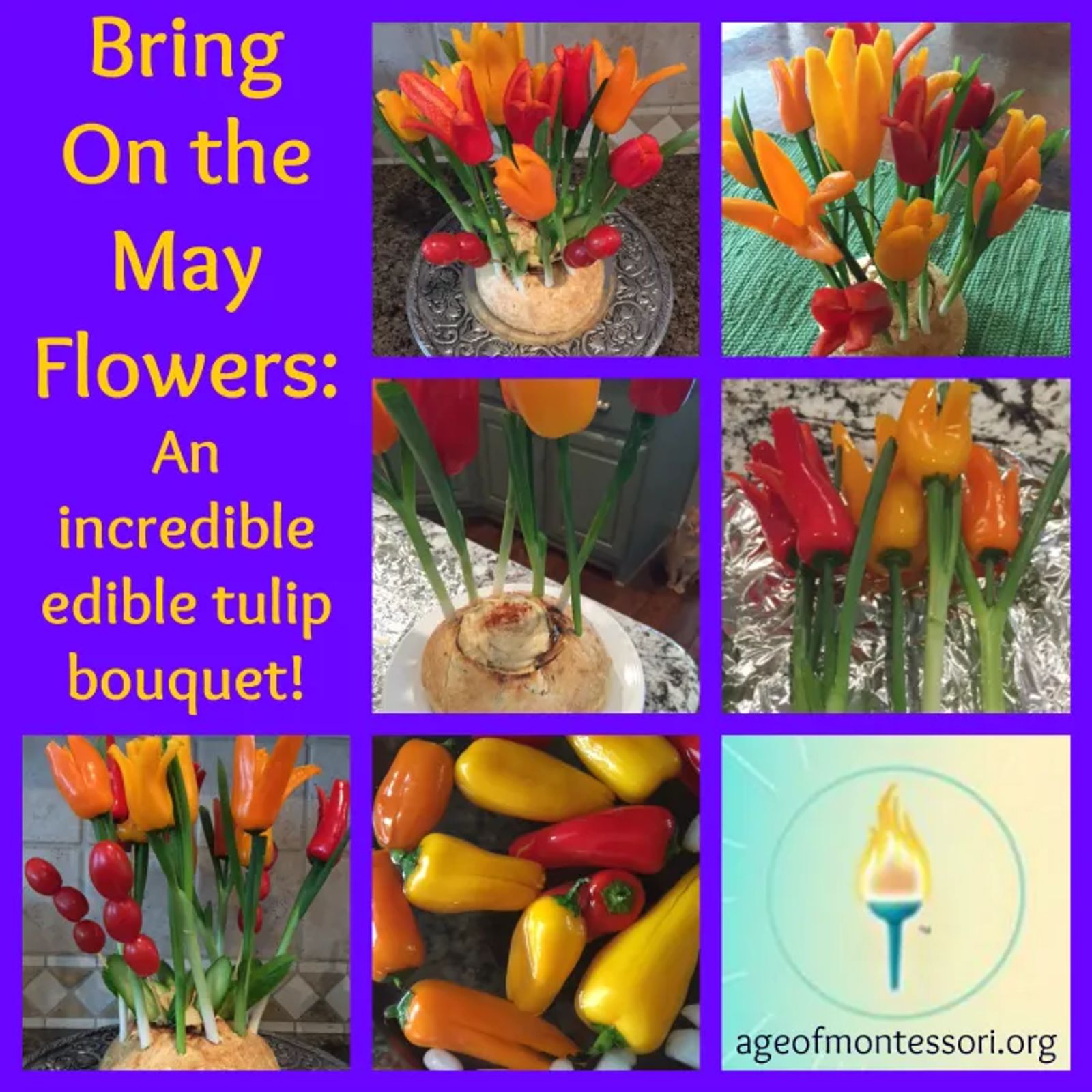 Here's what you'll need:
A dozen multi-colored sweet peppers
A dozen green onions
A dozen wooden skewers
a round loaf of your favorite choice of bread
One cup of hummus
One cucumber (optional)
Grape or cherry tomatoes (optional)
Start with the mini-peppers.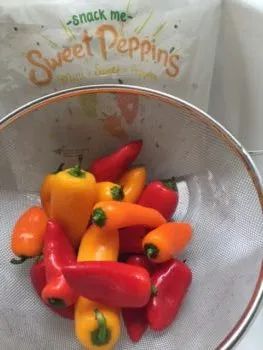 (Nice! As an added bit of sunshine, my purchase contributes to a good cause...)
Rinse the peppers and trim the tips off with kitchen shears. Do not remove the stems!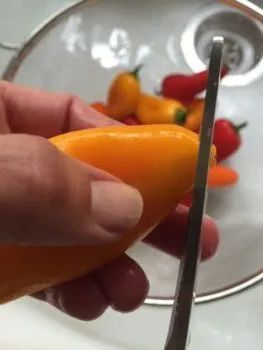 With safety scissors (for little hands) or kitchen shears, cut "petals" into the peppers. Simply make three or four cuts going about halfway down the pepper. Rinse the loose seeds out but otherwise leave the insides alone.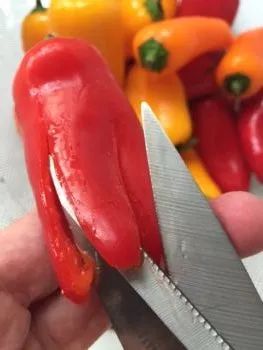 At his point, you can either keep going with the peppers as they are, or you can make your tulips "bloom" by soaking them in ice water.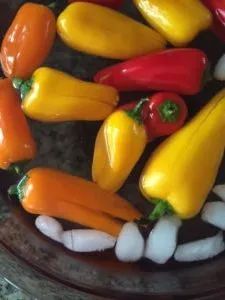 The longer you soak them, the more they'll open up...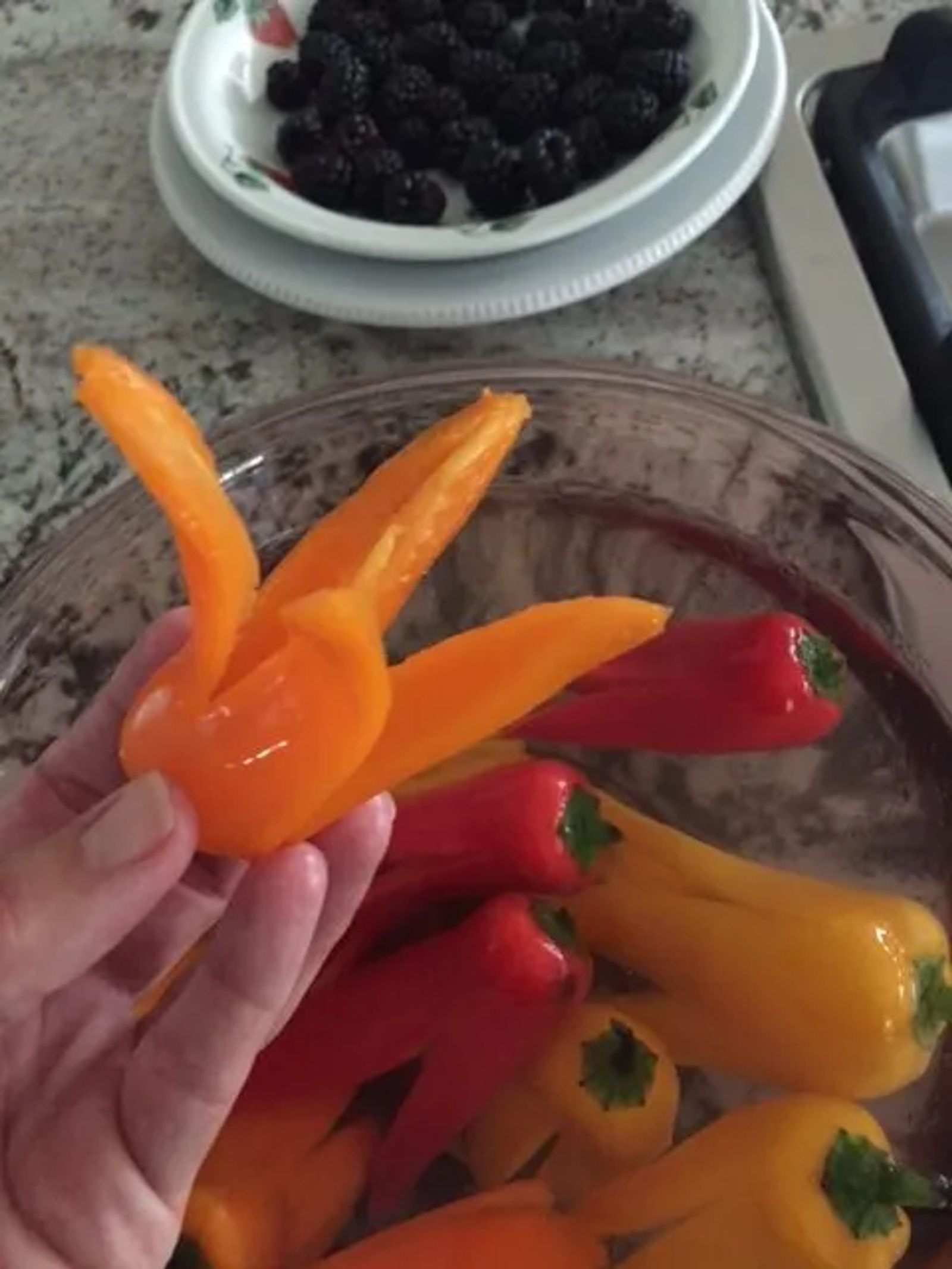 When the peppers are ready, prepare the green onions by rinsing and trimming. Carefully (very small children will need close supervision) thread a wooden skewer, leading with the sharp end, into the bottom (white part) of the onion. Gently twist the skewer as you work it all the way through to the top. Leave about a half-inch at the top (for the peppers) and 1½ to 2 inches at the bottom. You may need to trim the onion as necessary.
Next, prepare your bread by removing a center piece just big enough for about a cup of the hummus. Don't make the hole too wide; the walls of the bread bowl must be strong enough to hold up the flowers. Lightly toast the loaf in a toaster oven to give it extra strength.
While the bread toasts, prepare the tulips by threading the pointed end of the skewers into the stem-end of the peppers, like so...
Now, fill the bread bowl with hummus. Poke twelve holes in the bread with a extra skewer and arrange the "tulips" as desired.
Keep going! Get all twelve tulips in the "vase."
Decorate with sliced cucumber "leaves" and/or tomatoes, if desired.
Ooh! Almost too pretty to eat...almost. Take a picture and then dig-in! And remember, April showers will eventually bring May flowers!!! Enjoy!