Film 10 - Mr. Holland's Opus
Movies that Will Inspire You:
Learning to See the Child Who is Not Yet There
Mr. Holland's Opus is about a man who is teaching to bring in some income for his family, but believes his real calling is to write music. The years go by and he is still teaching. Only gradually does he accept that he has a gift for teaching. The film is about his ability to see the children who are not yet there and it is about his own growing awareness of himself. It is available on Netflix and other venues. Public libraries often have a good selection of films, or you can rent them or even buy your favorites through Amazon.com.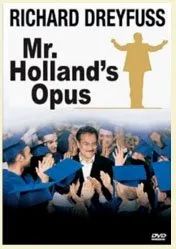 Richard Dryfuss brilliantly portrays Glenn Holland, an ambitious and talented musician who faces his greatest test as a teacher and as a human being. His son is deaf. Music is Mr. Holland's greatest passion and his only child cannot hear at all. It is a devastating blow to him and his desires to pass on his love and passion for music to his son. The film shows the alienation that arises from his mismatched expectations.
In the film, Mr. Holland discovers that "life is what happens to you while you are busy making other plans," a message I am certain many of us can relate to in our own lives. This movie may make you ponder how many of us fail or nearly fail to see our own greatest gifts. Yet as the film progresses, Glenn Holland comes to terms with how he is spending his life and the deep rewards of teaching. We find out how he finally connects with his son.
I love his words to one of his students about what he can and cannot teach them: "Playing music is supposed to be fun. It's about heart, it's about feelings, moving people, and something beautiful, and it's not about notes on a page. I can teach you notes on a page, I can't teach you that other stuff." You will have to see the movie to find out what his greatest creation, his "opus," turns out to be.
Another more adult-themed movie about deafness is Children of a Lesser God, with academy award winners William Hurt and Marlee Matlin. You may enjoy viewing it as well.