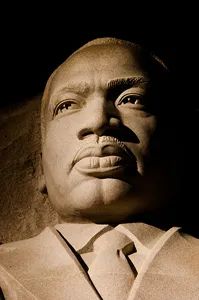 " I have a dream that one day every valley shall be exalted,
every hill and mountain shall be made low,
the rough places will be made plain,
and the crooked places will be made straight,
and the glory of the Lord shall be revealed,
and all flesh shall see it together."
~Dr. Martin Luther King, Jr.
August 28, 1963, Martin Luther King Jr. stood on the steps of the Lincoln Memorial and delivered his 17-minute message of hope, respect, and equality, to more than 200,000 political activists and countless listeners worldwide.  This brief but powerful speech would become a preeminent turning point in the civil rights movement and go-to reference for human rights.
It was the 100-year anniversary of the Emancipation Proclamation, and yet segregation, discrimination, and injustice for black citizens still prevailed throughout our nation, a nation founded on the belief that "all men are created equal."  In his speech, King asked America to keep her constitutional promise that "all men be guaranteed the inalienable rights of life, liberty, and the pursuit of happiness."  He called for equal opportunity and rights for "all of God's children."
King inspired the disheartened, uplifted the oppressed, and moved the resolute, through peaceful demonstration.  King reminded his listeners, "…in the process of gaining our rightful place we must not be guilty of wrongful deeds."  He spoke of conducting oneself with "dignity and discipline" and warned against physical violence.  King's remarkable capacity to bring about change, coupled with his unwavering adherence to non-violence, earned him the 1964 Nobel Peace prize and a place in history as an American icon.
--------------------------------------------
As believers in the peace sanctioning Montessori method of teaching our children, we are drawn to the ideology of like-minded leaders such as Martin Luther King, Jr.
Like King, Montessori was a vigorous advocate of peace among nations, reciprocal respect for one-another and a more harmonious outlook for humankind.  Like King, Montessori lived through times of war and dreamed of a cultural transformation through education, and through the power of our future generations.
"…on the satisfaction of more spiritual needs the progress of humanity depends- the creation indeed of a stronger and better humanity."
~Maria Montessori