Film 1 - The Miracle Worker
Movies that Will Inspire You:
Learning to See the Child Who is Not Yet There
Film 1 – The Miracle Worker
In my latest webinar offering, colleague Randall Klein and I spoke on the topic of seeing the child who is not yet there, and the love that wells up in us enabling us to fill the gap between imperfections we may see in our children and the fullness of their potential. It is a very large and extremely precious topic. I invite you to hear the replay of this and our other previous webinars on our website.
There are a number of wonderful films that capture the essence of teachers who have been able to see and hold the vision of what a child can be and do. I originally planned to write about twelve movies, but they turned out to be a "baker's dozen" of thirteen films instead. In this next series of thirteen blog posts, I will be recommending and reviewing these special films for you. All of them are available on Netflix and from other venues. Public libraries often have a good selection of films, or you can rent them or even buy your favorites through Amazon.com.
This series will entertain, enlighten and quite possibly make you angry that things are not better in our schools. But they will also inspire you with what these single remarkable individuals have been able to do every single day. It is my hope that one day there will be a feature film on Maria Montessori in English that will do justice to her method and her message!
The first film is The Miracle Worker. There are several versions of this film you can see. The one I am going to tell you about stars Patty Duke as Helen Keller and Anne Bancroft as her teacher, Annie.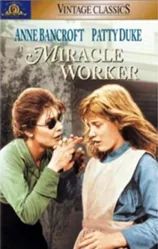 Helen Keller was a remarkable woman who lived from 1880 to 1968. She was stricken ill as a young child, and as a result was left both blind and deaf. She was trapped in her body, a wild child, until a young woman by the name of Anne Sullivan entered her life and fought to reach her. And what a fight it was! The film shows the tremendous struggle that Anne went through to reach Helen. The film covers only this youthful period in Helen's life, but she went on to receive a college degree and become an international traveler and speaker on disabilities.
Dr. Maria Montessori was born in the same year as Helen and they had the opportunity to become acquainted. Montessori highly admired Helen and dedicated one of her early books, Dr. Montessori's Own Handbook, to her. I would like to share Montessori's preface with you.
Photo Helen and Anne sent to Maria Montessori
If a preface is a light which should serve to illumine the contents of a volume, I choose, not words, but human figures to illustrate this little book intended to enter families where children are growing up. I therefore recollect here; as an eloquent symbol, Helen Keller and , who are, by their example, both teachers to myself—and, before the world, living documents of the miracle in education.
In fact, Helen Keller is a marvelous example of the phenomenon common to all human beings; the possibility of the liberation of the imprisoned spirit of man by the education of the senses.  Here lies the basis of the method of education of which the book gives a succinct idea.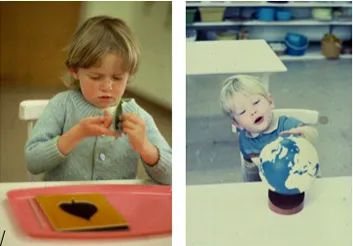 Children using the sense of touch to learn about leaf shapes and the globe
If one only of the senses sufficed to make of Helen Keller a woman of exceptional culture and a writer, who better than she proves the potency of that method of education which builds on the senses?
If Helen Keller attained through exquisite natural gifts to an elevated conception of the world, who better than she proves that in the inmost self of man lies the spirit ready to reveal itself?
Helen, clasp to your heart these little children, since they, above all others, will understand you. They are your younger brothers: when, with bandaged eyes and in silence, they touch with their little hands, profound impressions rise in their consciousness, and they exclaim with a new form of happiness, "I see with my hands."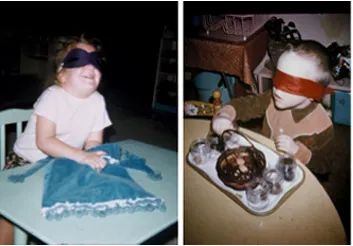 Children doing nut sorting and the mystery bag game with blindfolds
(to make it more interesting and to help call attention to the sense of touch)
Archival photographs from Elisabeth Caspari's original
Wee Wisdom Garden School - Lee's Summit, Missouri
The Miracle Worker is an award-winning film that highlights what it takes to reach the unreachable child. I recommend it and hope you enjoy viewing it!