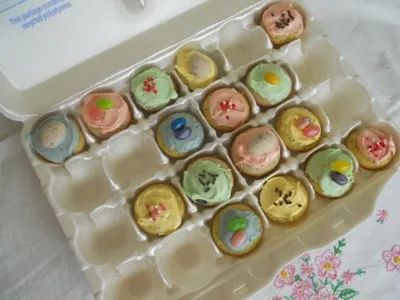 As I've mentioned a few times before, cooking is an egg-celent (sorry, I could not resist) way for children to develop practical life skills. According to Maria Montessori, the development of Practical Life skills is one of four main avenues through which young children learn.  When children are allowed to participate in such real-life activities, they gain in areas of coordination, motor skills, and independence.  Additionally, such activities help fulfill the child's fundamental need to act.  For more information about Maria Montessori's Practical Life lessons, click here.
"When mental development is under discussion, there are many who say, 'How does movement come into it? We are talking about the mind.' And when we think of intellectual activity, we always imagine people sitting still, motionless. But mental development must be connected with movement and be dependent on it. It is vital that educational theory and practice should be informed by that idea."
~Maria Montessori, The Absorbent Mind
So without further ado, here is this month's Montessori Munching Idea:
Easter Egg Mini-Muffins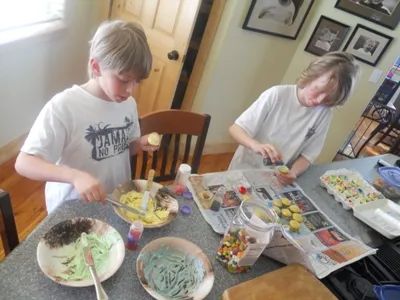 Ingredients:
3 1/2 cups flour

3/4 cup sugar

1 1/2 tsp salt

5 tsp baking powder

2 eggs

1 1/2 cup milk

2/3 cup vegetable oil

1 1/2 cups blueberries (fresh or frozen, thaw first if frozen and rinse gently)
Instructions:
In a large bowl, mix the first 4 ingredients.  In a medium sized bowl, mix the eggs, milk, and oil.  Combine egg mix into flour mix.  Stir until moistened but don't over stir, batter will be lumpy.  Gently fold in blueberries. 
 Line mini-muffin tins with paper cups or grease well.  Fill each cup 2/3 full.  Bake at 400 for 10-12 minutes or until golden brown on top.  Let cool 5 minutes and then remove from pans.  Now, let cool completely.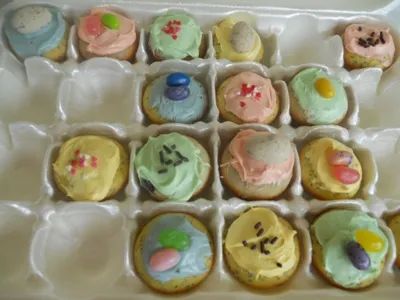 Cream Cheese Frosting
3 ounce package of plain cream cheese

1 teaspoon vanilla

1 cup powdered sugar
Mix all ingredients together.  Whip until light and fluffy.
Separate frosting into 3 or 4 bowls for different colors.  Let the kids decorate with candies, berries, or whatever; you can't go wrong!  Enjoy.