Montessori Inspired Autumn Spice Scent Bottles
Montessori Inspired Spice-Scent Bottles
Scent or smelling bottles are a classic part of the Montessori curriculum. It's also an easy and inexpensive do-it-yourself activity. I found these perfect, mini mason jars at the dollar store. Perfect because they are glass (so they have no plastic scent) and the lids are easy to remove and replace--even for very small hands. 
Starting with six bottles, this activity will involve three scents. In celebration of this time of year, I have chosen the following spices: cinnamon, nutmeg, and cloves but you can easily change these to other scents. Some suggestions are fresh or dried herbs, coffee grounds, pepper, dried onion or garlic, lemon or orange zest, and fragrant oils or extracts such as peppermint, vanilla, or lemon dabbed on a cotton ball.
First, wrap the spices in tissue paper of two different colors, in my case orange and green, then place them in the transparent bottles (jars in my case.) Each of the three spices is used twice, one in green and one in orange.
On the underside of the jars, place a colored dot, which indicates a correct match. This is what is known by Montessorians as "the control of error." In other words, the child can check her own work. There is no need for an adult to inform the child if she has correctly matched the scents or not.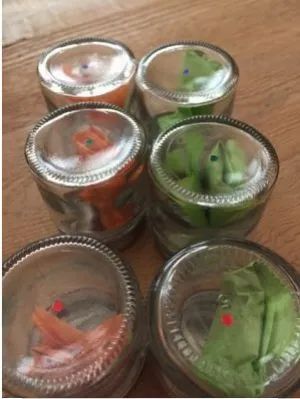 The first time through, show the child the steps of the exercise. Then, when the child understands, she can work alone.
First the child will open the jars, one by one, smelling the three of one color, then the other.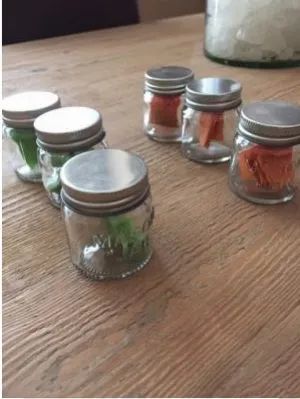 Then, the child "sniffs-out" the matching pairs. When she has found a pair, she will place the matching jars together.
When the jars have all been paired, the child looks at the colors on the underside of the jars to see if they match. Thus, there is no need for the adult to hover around. Let the child take her time, make mistakes, discover for herself, and correct herself. This is how the child really learns.
Montessori inspired Pumpkin Health-Nut Cookies
Another key concept of the Montessori philosophy is the importance of nurturing the body in addition to the mind, and spirit. So, in the spirit of everything autumn, I have included my recipe for these super-healthful, superfood, super-pumpkin power "cookies." Though they look like cookies, they are not especially sweet—I think of them more like a granola bar, but one that's actually good for you.
Pumpkin Health-Nut Cookie Recipe
 1 cup rolled oats (ordinary quick-cooking oatmeal)
1½ cups of oat flour (you can simply grind rolled oats in a food processor until flour-like in texture)
¼ cup ground flaxseed
1 tsp baking powder
1 tsp baking soda
½ teaspoon cinnamon
¼ teaspoon nutmeg
¼ teaspoon ground cloves
½ teaspoon salt
1 cup pumpkin puree
½ cup coconut oil, melted
½ cup honey
2 eggs
⅔ cup dried cranberries, cherries, or raisins
½ cup pumpkin seeds
Instructions:
Preheat oven to 350° F. Line a baking sheet.
In a large bowl, mix together oats, flaxseed, baking powder, baking soda, spices, and salt.
In a large bowl, mix pumpkin, melted coconut oil, honey, eggs, dried fruit, and seeds.
Combine with dry ingredients and mix well.
Drop by heaping spoonful into a lined cookie sheet and flatten slightly.
Bake at 350° F for 15-20 minutes or until edges are golden-brown.
Enjoy!