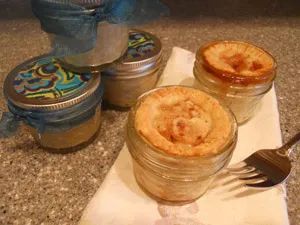 May 6-May 10, 2013 is Teacher Appreciation Week.  So, today I thought we could do an easy recipe/craft idea which is fun and skill-developing for children, AND will result in a great thank-you gift for those fantastic teachers in our lives.  These are single sized pies-in-jars.  We make and decorate them; and the gift recipient takes them home, pops them in the oven, and enjoys a hot, delicious apple pie for one!  Here is how to make easy pie-in-a-jar:
INGREDIENTS:
Ready made single pie crust.  You can make your own (follow this link) or feel free to use one of those frozen, store bought types.
Filling for pie.  Mix the following:  2 cups of peeled, cored, and diced apple; 1/2 Cup sugar; 1 tsp. ground cinnamon; dash of nutmeg.
1 TBSP butter
INSTRUCTIONS:
Start with five 4-ounce glass canning jars.
Make your own pie crust or use the store bought variety.  A single crust will make 5 pies-in-a-jar.  Roll out your crust and, using the jar lids, cut out 5 tops for the pies.
  Use the remaining crust to line the insides of the jars.  Simply, press pieces of dough into the ungreased jars, making sure to cover the bottoms and all the way up the sides with an even, thin layer of dough.
Fill with prepared apple mix.  Dot each one with butter.  Cover with your dough tops and seal the edges by pressing with your fingers or a fork.  Cut a few slits to vent or have some fun cutting out shapes.  I tried to make little apples on top...what da y'think?  Be careful not to overfill, so that the lids fit.
Now for "prettying-up" the jar.  Using a decorative paper or cloth, cut out circles the size of the lid.
Slide the decorative paper into the top of the lid.
Include the baking instructions for your gift recipient.  I chose to put them on the back of the decorative paper.  The instructions are as follows:   1.) Remove lid   2.) Place on a cookie sheet and put in a cold oven.   3.) Turn oven on at 375°   4.) Bake for 45-55 minutes.   5.) Enjoy!
Now pop them in the freezer and keep frozen until baking time...yes, I said the freezer.
Finally, include a note letting teacher know much you appreciate them.  you could use a cutesy expression such as: "Thank you for being such a sweet teacher," or "Here's an apple for my best teacher," or "Teacher, you're sweet as pie."  You get the idea.  Check out our Pinterest page for more awesome teacher appreciation ideas.