Montessori Education Back to School Jitters...for Mama!?
"Back to school" is a welcome mantra in our home. Not realizing just how much we'd missed the structure, routine and drive that school brings for our spirited daughter, the new school year is in full swing, and we couldn't be happier. This is the first year that it really even felt like "back to school."  Previously, we'd been in a daycare and never had a break between summer and fall. Jumping into this new school year brings great delight to us as parents.
Before We Go Further
First, let me pause to introduce myself as the newest parent blogger for Age of Montessori. I am Frances Graham, a full-time working mom at Book Trust who does her best to manage that esteemed work/life "balance." Married to Todd Graham, who does rangeland consulting across western states, we live in a little farming town, Churchill, Montana (close to Bozeman).
The Graham Family:
Frances, Parker, Todd and Chapin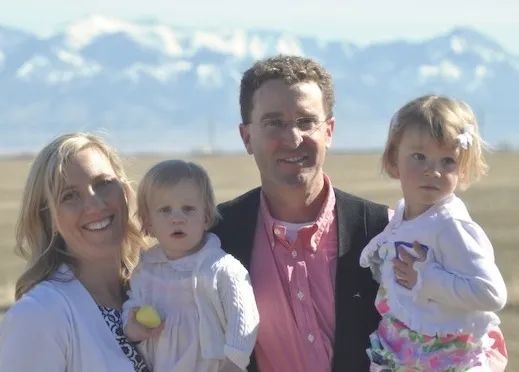 We have two children: Chapin, almost 4, who is in her second year at a Montessori school in a 3-6 age classroom and Parker, almost 2, who will be transitioning from a preschool to the same Montessori school in the 2-3 age classroom. Our first daughter, Emerson, would have been five this year and heading into kindergarten, but she passed away at two days old. I include her, not only because she is very much a part of our family, but also since many of our parenting decisions possibly stem from losing a baby (to unknown causes). Some would call it an extra level of overprotection—aren't all parents overprotective?—while others might call it parenting through grief. Honestly, we are like so many parents and just have a tad heightened level of awareness that life is brief and we must provide the best for our children.
Wanting the Very Best: Normalization.
Everyone wants smart, capable, independent, thriving children. Everyone wants to give their children the very best so they have the skills and knowledge to succeed. Everyone loves their children perfectly, knowing that life is short and we cannot waste our precious time together, right?
So why am I giddy when I hear the excitement of rolling a rug from my daughter upon her first day back to school? Or a gentle reminder of, "Please, let the workers work," lest I forget the gentle hand on my shoulder to get my attention? Oh, it thrills me! Although only away from school for three weeks, it seemed like eternity to get back into the rhythm and welcome routine of Montessori school, especially in comparison to a more lenient summer program.
First Day Flutters, er, Flusters
But the first day back wasn't all roses. Yes, we were the ones to get an email from the lead teacher on the first day. The teacher had let us know that even after drop-off, which had been a dramatic struggle, Chapin had not engaged, wouldn't even say her own name at circle, and was glued to the teacher all day. If that wasn't enough, Chapin had relaxed and acted so silly at the snack table with a friend that she needed to be excused, not to mention being reminded about using her "inside walking feet." She ended the day by asking for her own lesson, so all-in-all it was a good day. Awesome. Here we go!
But if the snack table wasn't enough, I then got a tap on the shoulder from the head of school at pick-up. She informed me that Chapin needed to wear shorts or pants under her dresses since, basically, she has no modesty. Yes, her dress is frequently cast above her knees or even used as a dish rack when carrying bowls from one side of the sandbox to the other. There are apparently some children on the playground who get a giggle out of a 3-year-old's undies. Oh my, already? Doesn't that start in fourth grade? Where do I even begin with my little first-day chat with my daughter?
I didn't even have to ask about the silliness. Chapin spilled the beans on the drive home, letting me know she had only eaten part of her snack because she and a friend had gotten silly. I asked if she had gotten in trouble, and she said no. Just as the children adjust, so must we as parents, remembering to ask questions that don't imply one thing or another.
In reality, I should have asked simply, "What happened?" This may have elicited the different response: she thought it was funny, but it resulted in being excused from the snack table.
The Metal Insets lesson is in Language Development and allows the child to grip, guide and control a pencil while tracing metal shapes. Learn more here.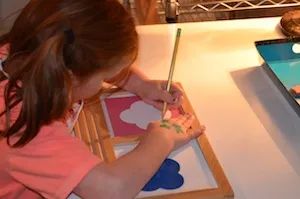 When I asked if she had done any work, much to my surprise she responded, "Metal insets." This was a new one for me. "Metal insects?" When I probed her more, I didn't get much. But I had a very proud parent moment that my 3-year old daughter had done Metal Insets that day, whatever that was . Oh, the joy! Proud mama moment and yes, we are only on the first day. Okay, we must be doing something right.
That evening when we were picking out clothes, she was very proud to choose another dress (she is my pink and purple girly girl who occasionally likes to put something in her hair to hold it back). I gently let her know that she'd need to also choose something to wear under her dress.
Creating a Visual
Now, let me give you a little insight into this strong-willed child—she has been picking out her clothes since before she was two and, in the last year, comments on what matches and what doesn't. Telling her that shorts or pants would need to go under her dress was like telling a football player he needs a tiara. It wasn't going to happen. So, I let her know the truth: "There are kids on the playground that think it's funny when they see your undies." She promised she would keep her dress down. I responded, "I know as much as you may try, don't you think there may be times when you are making ice cream cones in the sand box and you're not thinking about your dress coming up?" Bingo, putting a visual on it was imperative for my daughter. Without saying a word, she got up and chose a pair of shorts.
Alas, we were moving on to day two of school. On the way to her school, I let Chapin know that I would come to the door, give her a big hug to last all day, and then not cross the blue line taped to the hearth. Chapin seemed okay with this and, as her teacher had pointed out, it allows us all to get off to a good start this year with setting a positive example. This is an area we've struggled with since Chapin was an infant. She has huge separation anxiety and doesn't adapt to change easily. So setting this up from the start this year felt good, almost empowering for both of us. We parted with a hug, kiss, cuddle-wuddle (hint: I learned this from a colleague, started using it, and it works wonders with my daughter). She gently turned and took her teacher's hand. Success in small steps is success. Celebrate it!
Jitters Melt with Routine

Blue lines, feeling more independent, saying our names, and keeping our undies undercover—the normalcy of school is feeling good. As the days unravel, I look forward to sharing the ups and downs, highlights and low lights of delighting in the growth of our girls. They are little spark plugs that keep us on our toes, and I hope that as I share insights into our own lives, you feel a little piece of connection, a semblance of understanding, and cut yourself some slack as parents. Remember, we're all doing the absolute best we can, day in and day out. Congratulations on welcoming all our children back to school.