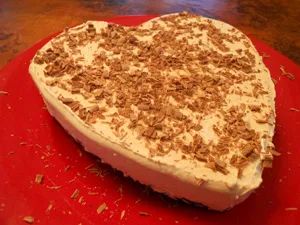 What Does "Love" Mean to You?
Ahh Valentine's Day!  It's just around the corner.  That fun filled day of pink paper hearts and shiny mylar balloons.  A day to be bombarded with sentimental jewelry store commercials and syrupy store bought cards intended to tell those special people in our lives just how much we love them.  Of course, Valentine's Day can be a lot of fun, but does our celebration of love really need to be so insubstantial?  Have we, as a culture, forgotten the real importance of love?
In these times of discord among races, religions, and nations, perhaps it is time for us to remember that love is, in fact, the very hope for the future of humanity.  "Childhood has shown me that all humanity is one," wrote Maria Montessori, nearly 60 years ago in her Letter to All Governments.  "Children are the constructors of men whom they build, taking from the environment language, religion, customs, and the peculiarities not only of the race, not only of the nation, but even of a special district in which they develop."
Perhaps this is the year that we focus on teaching our children that love is not just about flowers and chocolates; rather, love is a powerful force that contains the promise of peace and unity.
"All problems of humanity depend on man himself; if man is disregarded in his construction, the problem will never be solved."
~Dr. Maria Montessori
I always find that conversation flows more easily while little hands are busy with a project.   I decided to discuss the subject with my kids while engaging in a fun and relevant cooking project.  This year, we  chose to make a heart shaped "Peace Pie."  This pie is easy to make, requires no baking, and is made with wholesome ingredients.  Here is how you could make your own Peace Pie.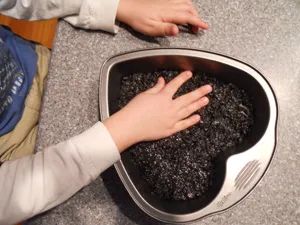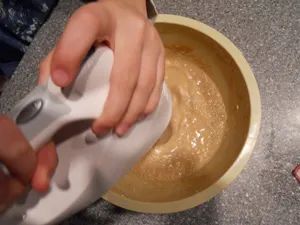 In a medium sized bowl, combine melted butter and graham cracker crumbs.
Press with fingers into the bottom of a deep dish pie plate.  Set aside.
In a large bowl, whisk together warm milk, peanut butter, softened cream cheese, and vanilla until smooth.
Gently fold in the Cool Whip.
Pour peanut butter mixture over the graham cracker crust.
Top with shaved chocolate.
Freeze overnight (yes, you will have to wait, but everything good is worth waiting for!)
Share this sweet dessert with the people you love!