Who is Elisabeth Caspari?
Drs. Maria Montessori and Elisabeth Caspari
In 1939, Dr. Elisabeth Caspari, doctor of music and pedagogy and founder of an acclaimed music school in her home country of Switzerland, journeyed to India and Tibet. She traveled with her husband, Charles Caspari, and a select few friends on a mission to study foreign religions. Little did Elisabeth know that her life was about to change forever. During her visit in India, Elisabeth met with Dr. Maria Montessori; they spoke at length about music, teaching, and their common interests in the study of pedagogy. Maria Montessori exclaimed to Elisabeth, "You were a Montessorian before you met me!" and invited her to take her Montessori Method course in Adyar, India. Though Elizabeth was greatly interested, she had obligations and plans to continue on to Tibet.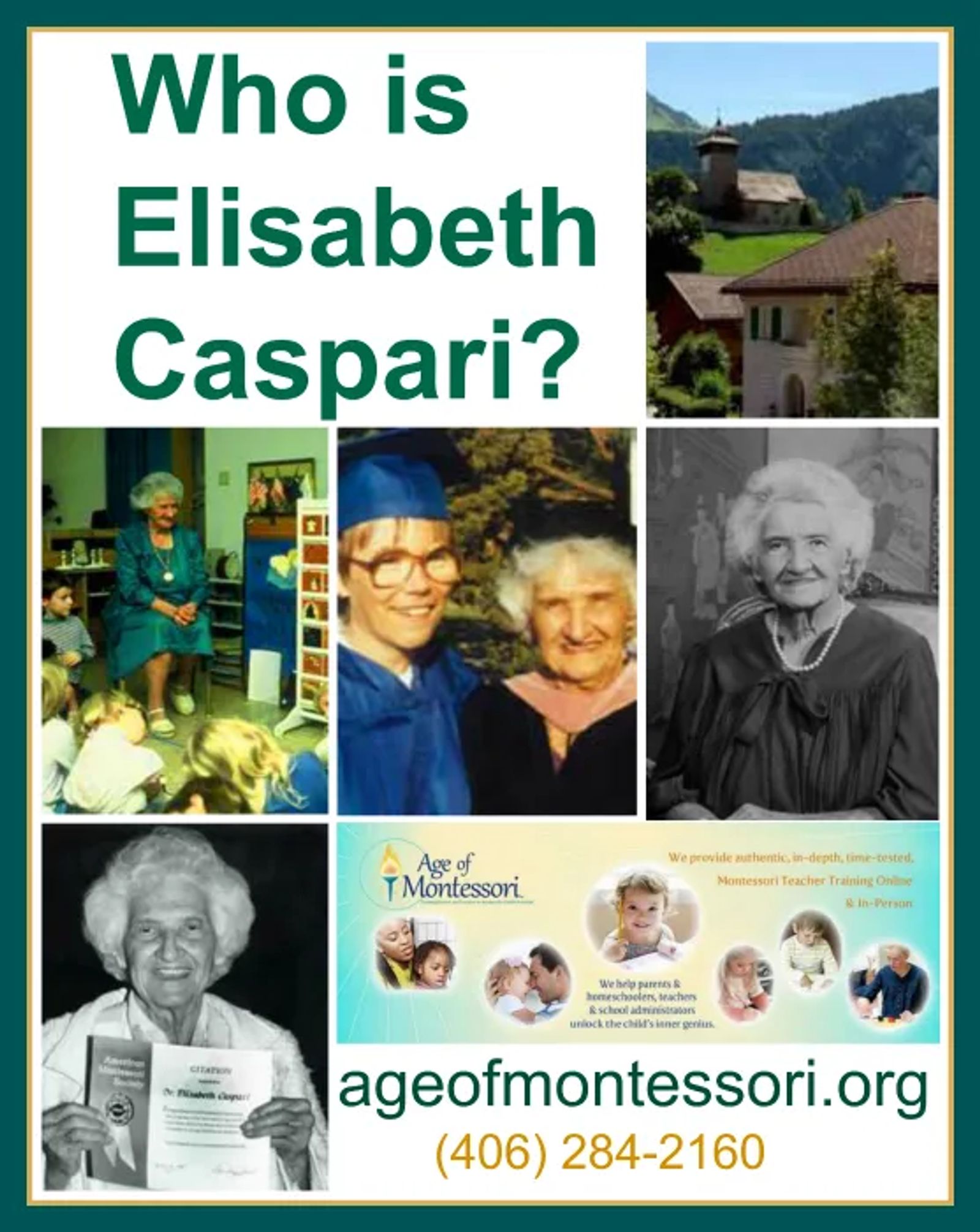 Then came the great upheaval of World War II; the Casparis were unable to get home to Switzerland. Elisabeth used the opportunity to return to India where she attended Maria Montessori's course. After the course was completed, Maria and her son, Mario, were also unable to return home because of the war. In a strange twist of fate, Charles and Elisabeth Caspari, and Maria and Mario Montessori all ended up residing in the small village of Kodaikanal, India. Nearly every day from 1942 through 1945, Maria Montessori and Elisabeth Caspari collaborated and worked together. During this time, the Casparis opened their first Montessori school in their home in Kodaikanal.
After the war ended, the Casparis did not return to Switzerland as their families expected. Instead, they chose to move to the United States. Elisabeth was dedicated to spreading Montessori's educational methods far and wide. She opened another school, Wee Wisdom Montessori, the first Montessori school in the U.S. since before the start of World War II. She also opened the first Montessori Teacher Education Center in the U.S. since the war. In 1973, Elizabeth Caspari, together with Dr. Feland Meadows, founded the Pan American Montessori Society (PAMS). Among many other honors, Elisabeth received the American Montessori Society Lifetime Achievement Award in 1983, and the Maria Montessori Lifetime Achievement Award in 1994 from MACTE (Montessori Accreditation Council for Teacher Education).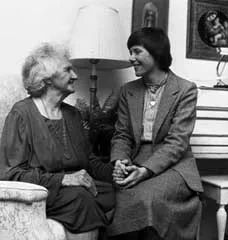 Elisabeth Caspari and Mary Ellen Maunz
Elisabeth Caspari brought the authentic message of Montessori to hundreds of teachers around the world, including at least six teacher trainers, among them, Mary Ellen Maunz, M. Ed., founder and Program Director of Age of Montessori. Mary Ellen trained over a four-year period to become a Master Teacher in 1983. She and Elisabeth formed a close friendship which spanned more than twenty years. Together, they launched the Montessori teacher certification program. Today that tradition lives on at Age of Montessori.
Age of Montessori is fortunate to have more than 300 hours of footage in our video archives of Dr. Elisabeth Caspari teaching and lecturing. Caspari worked untiringly to film the entire course and gave many recorded lectures and interviews. Much of this one-of-a-kind footage is available in Age of Montessori's Teacher Training course. Dr. Caspari passed away at the age of 102 in her home in Paradise Valley, Montana on July 11, 2002.
"Her words and her presence in the videos bring us great love and comfort. Her knowledge was both entirely practical and yet founded on a deep consideration of Montessori's profound message," our founder and program director, Mary Ellen Maunz has said. "If Montessori were with us today, I am certain she would applaud Elisabeth Caspari as one of the truest carriers of her message."
Thanks to Dr. Elisabeth Caspari's determination and dedication to high standards, Age of Montessori is able to bring the most authentic training possible to those seeking Maria Montessori's true message. Real, authentic, and accredited Montessori training is within your reach! Age of Montessori's blend of on-line and in-person learning prepares you well for a career that is founded in Maria Montessori's true legacy.